AJPW will become the latest Japanese promotion to make themselves widely available to western audiences, when they launch their new online subscription service in March. Details are still sketchy on just how much classic content will be made available, but with the modern All Japan product still producing the goods, it will likely be well worth the subscription either way. So what better time to take a look into what AJPW in 2018 is all about…
History
AJPW has a long and storied history stretching back to 1972, debuting only a few months after NJPW. Created by the legendary Giant Baba, AJPW built itself up a reputation for producing some of the best pure wrestling on the planet (although it was known early on for having more western influences the NJPW). It arguably reached its peak during the 90s with stars such as Misawa and Kawada making AJPW wrestling a favourite for both Japanese crowds and tape trader alike. Following Giant Baba's death however, AJPW would soon to fall into turmoil with Misawa leading most of the roster into the forming of Pro wrestling NOAH. Various walk outs, failed pushes, Tv network issues and other issues have plagued AJPW ever since. In the last few years however, a new branch of stars seem to be turning the promotion's fortunes around and for the first time in a long time the future looks bright for the AJPW.
The Style
All Japan is, unashamedly, more old school in its approach to wrestling then its lifelong friendly rival New Japan. The style it currently exhibits is not a far cry from the 'Kings Road' style it produced in the 90s. Expect lots of big men hitting each other really hard with big suplexes, powerbombs and lariats aplenty. There is a Junior division too but its far more technical-wrestling based then most lightweight divisions, which may disappoint some, but at the same time makes for a refreshing change of pace.
The Roster
Like most promotions outside of New Japan, AJPW uses a lot of freelancers, so expect to see a lot of guys come and go, many of whom you may recognise from elsewhere. We're not going to overload you with everyone on the roster, but instead here's a quick overview of a few of the biggest names.
Suwama
A record six-time Triple Crown Heavyweight Champion, Champion Carnival, Ōdō Tournament and world tag league winner, Suwama is largely considered to be the 'ace' of All Japan Pro Wrestling.  A 260 pounder Hoss Man worker, Suwama in many ways exemplifies the All Japan style. After ten years on top, many are now looking past Suwama towards the next generation of stars, but he hasn't been dethroned as of yet and he'll likely still be a major player going forward. He can be a bit hit and miss in his matches, but when he does hit, it's a thing of beauty.
Kento Miyahara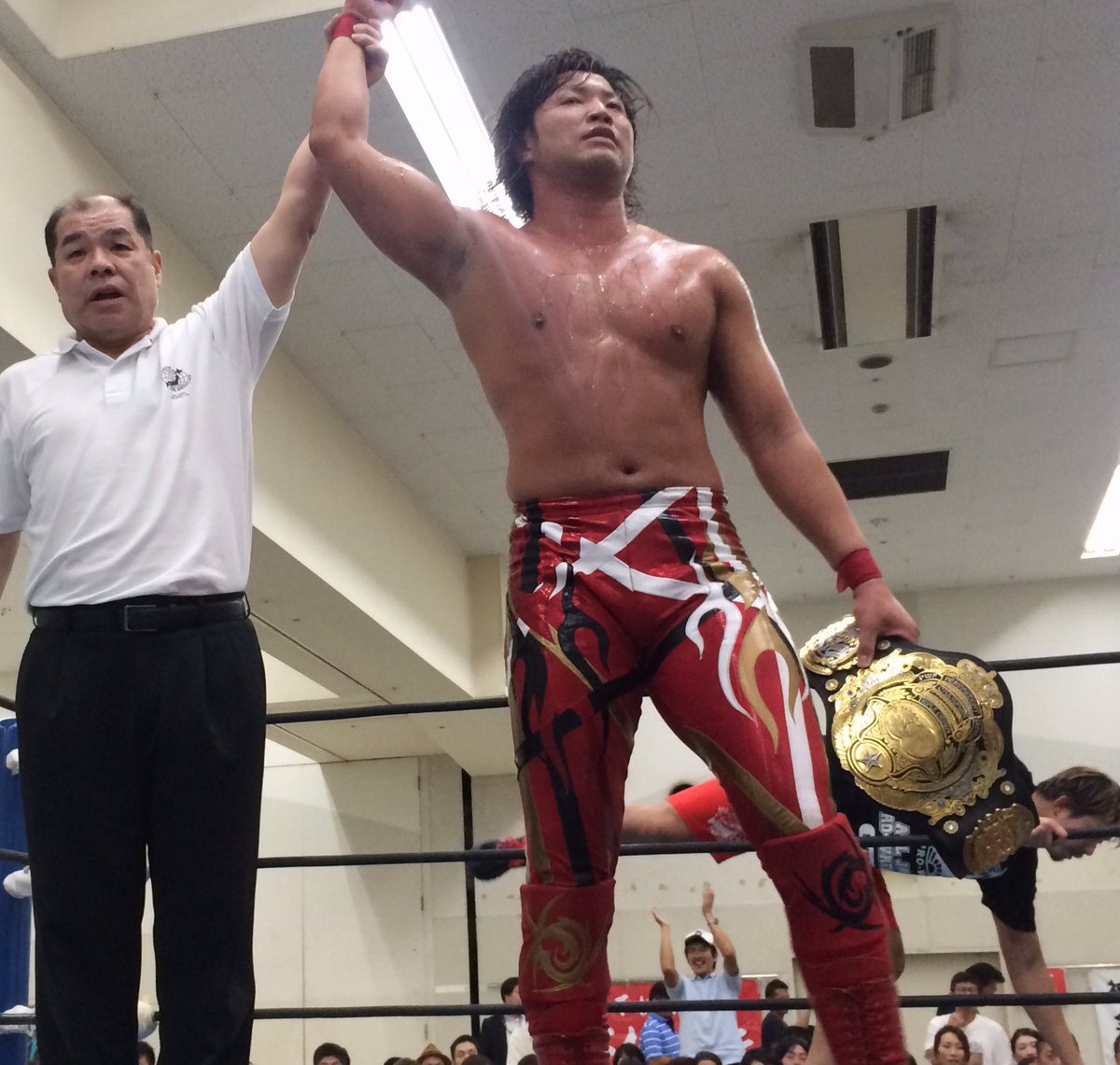 Back in 2016, Suwama was forced to relinquish his title due to injury and All Japan were put in a position where they needed to let somebody new run with the title. Miyahara was that someone and run with it he did, becoming the youngest triple crown champion in history with a fifteen month-long reign. It was a reign that was not only successful in the ring, but All Japan experienced a huge amount of growth during this time too. Currently embroiled in a slow-burn feud with 'ace' Suwama (comparable in many ways to the Okada/Tanahashi feud from New Japan), and leading the young Nextream faction, Miyahara is very much the poster boy for the generational shift in All Japan. His look and in-ring work reflects this, but don't go thinking he's some flippy, pretty-boy, as between the ropes he's one of the best workers out there today.
Joe Doering
The current Triple crown champion, these days Joe often gets a lot of Stan Hansen comparisons, and in fairness it's not hard to see why. He's a talent who deserves to be rated on his own merits though, and Joe continues to earn his place amongst the top ranks of All Japan as their premier Gaijin. That said if you're a lover of old school big lariats, Powerbombs and the like, you can't go wrong watching some Joe Doering matches. Bar a very small stint in WWE developmental Joe has been with the company since 2007, capturing his first triple crown in 2014. He would be forced to leave the sport in 2016, after being diagnosed with a brain tumour. He would return with a vengeance in 2017 however, capturing his second Triple crown title by the end of the year.
The big guns (Zeus and the bodyguard)
The premier tag team in All Japan, Zeus and the bodyguard are a pair of high intensity power workers, with Zeus in particular having an explosiveness between the ropes. There's an age gap between them, with the bodyguard being the older of the two. They have both found some moderate success as singles workers, and Zeus has been skimming the main event scene for some time now, but as of yet hasn't quite broken through.
Jun Akiyama
Akiyama is perhaps best remembered for original AJPW run in the 90's and subsequent time spent with NOAH in the 00's (where he would become a three-time GHC champion). He would return to AJPW in 2013, just before another mass exodus hit All Japan. He would be instrumental in rebuilding the company both in the ring, as a skilled veteran with name value and outside of the ring, becoming the company's president in 2014. At 48 he's certainly not what he used to be, and he is step by step moving away from the spotlight. Don't expect to always see him crammed into opening tags however, as he's still winning belts (namely tag titles) to this day.
Shuji Ishikawa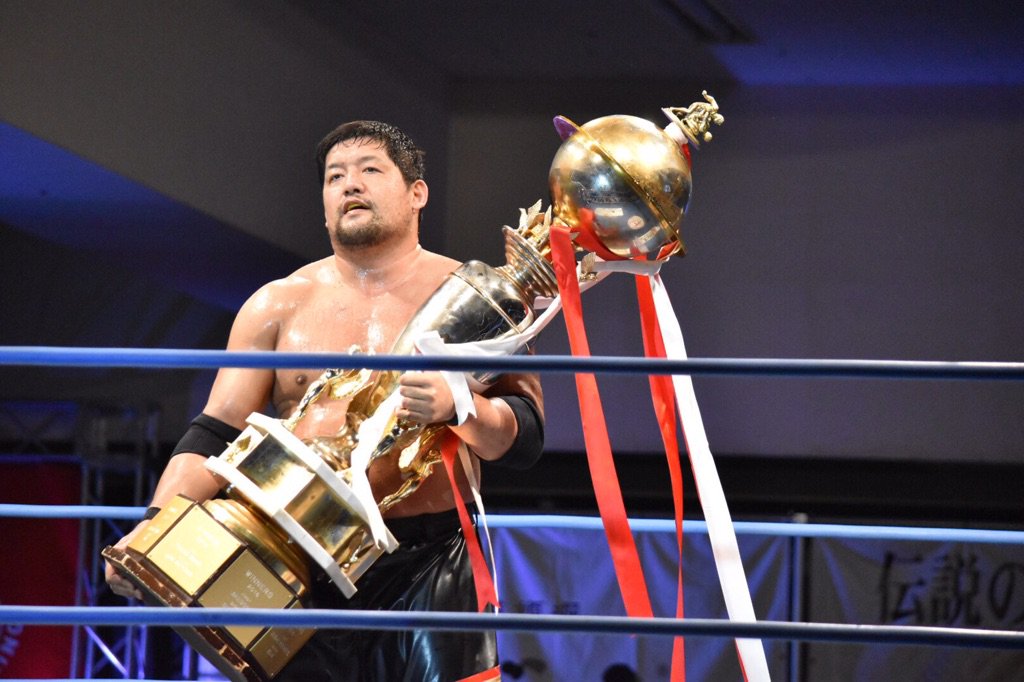 Maybe the most successful freelancer in Japanese wrestling, Ishikawa has been a dominant force wherever he goes, not only having won the champions carnival, triple crown and tag team titles in All Japan, but winning titles and tournaments in both BJW and DDT as well. He's another 'big hoss' style wrestler and while he's never likely to be the 'guy' in AJPW, he's just a too valuable an asset to keep down.
Tournaments
Champion carnival
AJPW's most famous tournament, the champion carnival is also one of the oldest tournaments in wrestling, predating NJPW's G1 and its predecessors. Starting off in 1993 as a single elimination tournament, it would in time evolve in the round-robin format we see today. Wrestlers are placed into two blocks and compete against everyone else in their block. Two points are awarded for a win and one for a draw, The winners of each block then face each other in the finals. If two wrestlers from one block finish with the same amount of points, then whoever won from their block match encounter wins the tiebreaker (in the very rare case two wrestlers finish at the top of the block with equal points and drew their match, then a playoff match would take place). All Japan often bring in a lot of outsiders for the tournament, and it's been known for these outsiders to win the whole thing too. The winner often gets a title shot, but the main prize is the tournament itself.
Ōdō Tournament
A spiritual successor to AJPW's open tournament from many years ago. The Ōdō Tournament  is a single elimination tournament, with the winner getting a title shot for the Triple Crown.
Jr. Battle of Glory
Previously known as the AJPW Junior league and then the Junior Hyper League. The Jr. Battle of Glory is essentially the Champion Carnival for Junior Heavyweights and uses the same format. While tournaments were held in 1983, 1996 and 2003, the tournament only started to be held annually in 2006.
World's Strongest Tag Determination League
Commonly known to western fans as the Real World Tag League, the WSTDL is easily one of Japans best tag team tournaments, as unlike in New Japan say, main event talent will often put in strong efforts (with legit partners) to win the tournament, Suwama and Ishikawa for example won last year's tournament. So don't go skipping over this one because New Japans G1 Tag league perhaps disappointed you. The format is essentially the same as the Champion Carnival and Jr. Battle of glory.
Jr. Tag Battle of Glory
This one's a little different, in that it's a single block round robin, with the top two teams facing each other in the final. The tournament generally ignores the tiebreaker rule used in most tournaments, instead extra playoff matches are normally added to decide the finalists. Since there are no Jr. Tag belts in AJPW, the winners will generally get an All Asia tag title shot.
Championships
Triple crown Heavyweight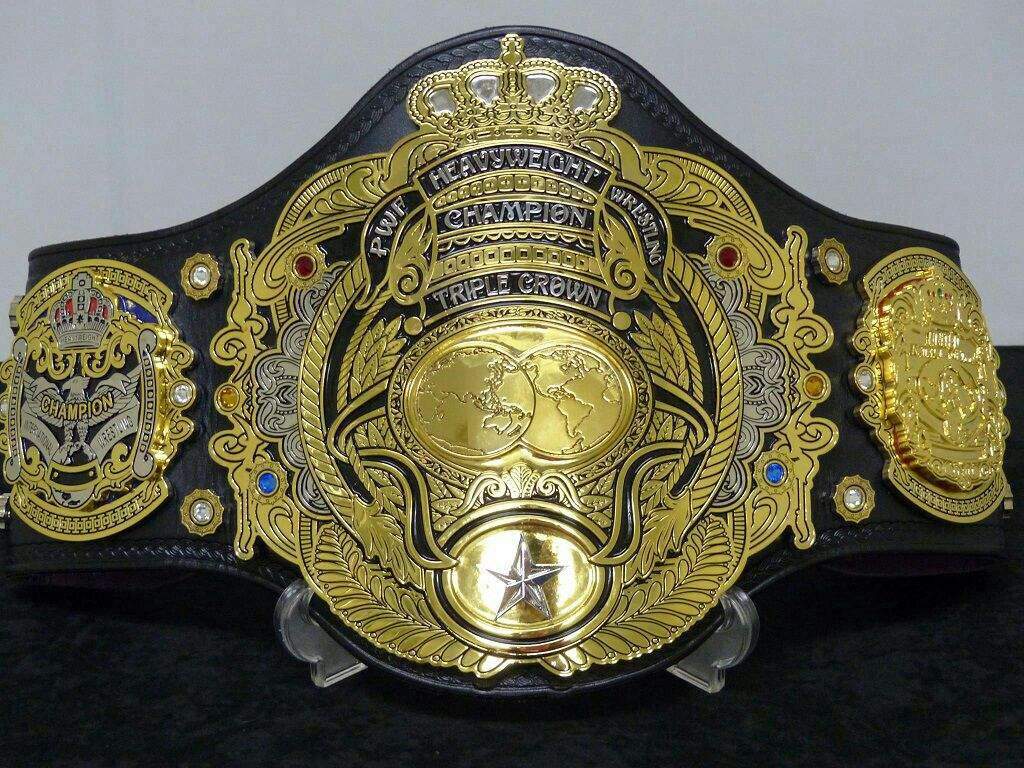 As its name suggests, the triple crown was created from the unification of three titles, when Jumbo Tsuruta, the NWA International Champion defeated Stan Hansen, the PWF world and NWA United National champion, back in 1989. Since then it has served as ASPW's main belt, with the likes of Vader, Misawa, Minoru Suzuki and Kenta Kobashi serving as champions The championship would be continually represented by all three belts until 2013, when a singular belt was made.
World Tag Team Championships
Much like the Triple crown, All Japans world tag title is actually a unification of titles, in this case the PWF tag team and NWA International tag team titles. Although the belt essentially now treated as a singular championship, it is still represented by four belts with two for each champion. AJPW don't have much of a defined 'tag division' instead expect a lot of singles pairings, with the big names often going after the belt.
All Asia Tag Team Championships
In what is very much a niche in modern pro wrestling, the Asia tag titles act as All Japans secondary tag team championships. The belts, which are the oldest active titles in All Japan, generally switch between older veteran and younger rookie teams nowadays. They have on occasion been unified with the world tag titles, but they have always remained as separate entities. Neither of the tag belts in AJPW are considered weight specific, though your more likely to see Junior tag teams go after this belt as opposed to the world tag belts.
World Junior Heavyweight Championship
The top prize for Junior heavyweights in AJPW, the belt much like AJPW's Junior division in general has had a bumpy history, with long periods of inactivity and the occasional long reign without any defences. While the junior division is still very much secondary in AJPW, the belt is treated a lot better these days, and if you enjoy lightweight technical wrestling, then its worth keeping an eye out for the Junior title matches.
Gaora TV title
All Japans newest championship, the Gaora TV title serves as a secondary singles championship for the heavyweights. Not a particularly prestigious belt, it generally switches between veterans, younger workers and those lower down the card.
By Mike Grindle @MikeGrindle
Enjoy this introduction to AJPW? Don't forget to like, comment and share! 
Follow Puroresu Road now on Twitter, Tumblr and through Email to keep up to date with the newest articles.